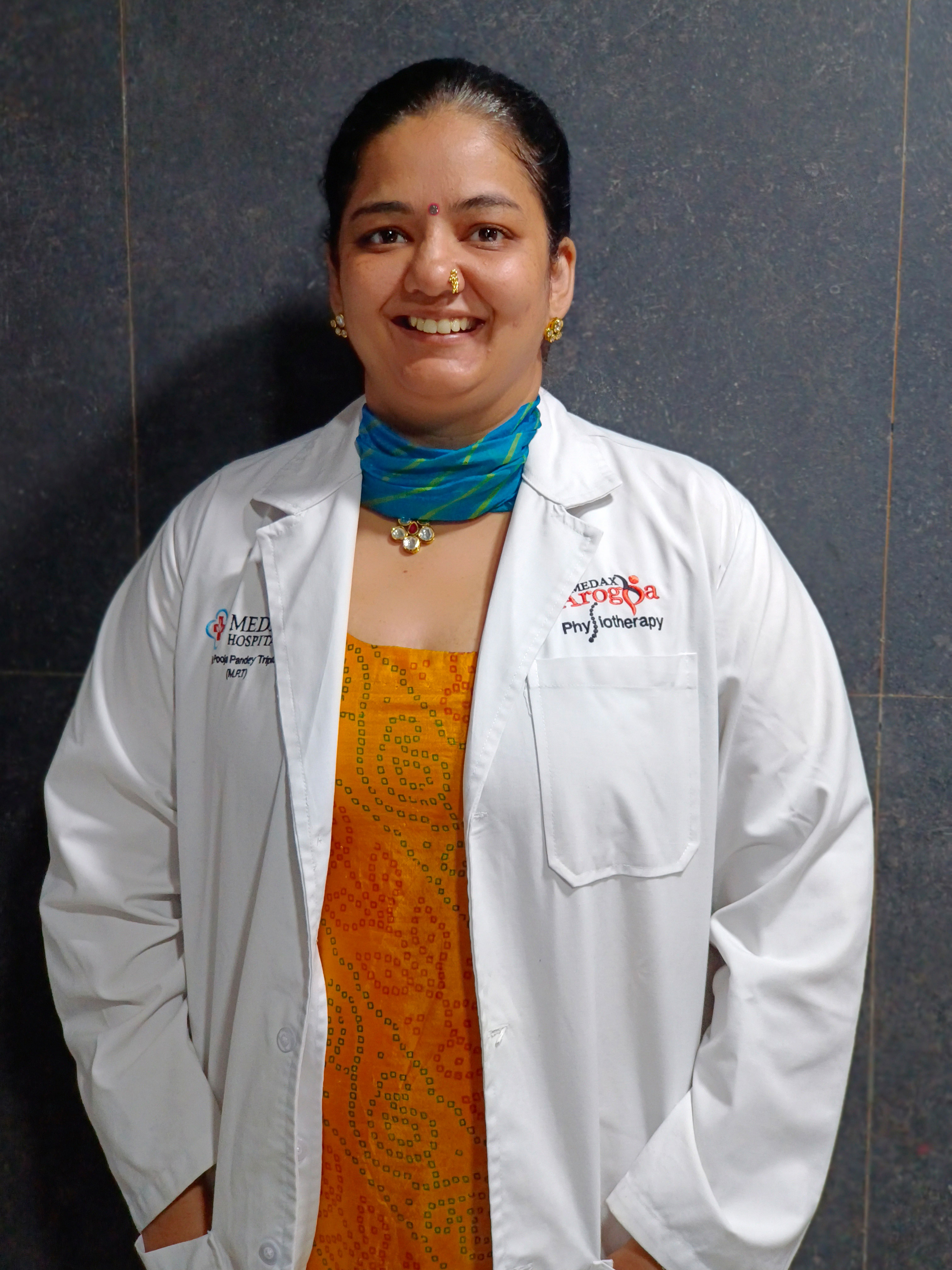 Dr. Pooja Pandey Tripathi
Founder of "Arogya Physiotherapy"
Timings (on appointment)
Jigani
10.30 am to 2.00 pm
Kalinagrahara Bannerghatta Road
4.00 pm to 6.00 pm
Dr. Pooja comes with multifarious experience in handling a varied number of cases in physiotherapy. She was the Head of the Department of Physiotherapy at St.Joseph Niwas from August 2006 to October 2008 and has rehabilitated many physically and mentally disabled kids. She has a keen interest in exercise therapy and has been practising and teaching yoga and aerobics since 2004.
She is also certified in "mulligan and maitland techniques" by FIMT and practises them often and uses it in her clinical practice.
She is the founder of "Arogya Physiotherapy" since May 2009 earlier located at Jayanagar and now shifted to Magnus Diagnostic Centre, Bannerghatta Road. She is also an expert in women's fitness and conducts prenatal, postnatal and Zumba classes in Sakhi Hospital on regular basis. Apart from this, she is also a consultant at Sagar Hospital, Konankunte cross and Sai polyclinic, Hulimavu. She has recently started a youtube channel called arogya physio tips for promoting health and fitness.
Dr. Pooja is a trained Zumba instructor who has customised her classes on pilates and Bollywood themes which she calls wolly. She is a motivational speaker at various schools and colleges like NMIS, DPS, Kumarans, JAIN college, BGS etc.
She has also taken a talk on posture and ergonomics in many corporates, schools and colleges. She has also been a speaker and resource person at various physiotherapy conferences all over India.
In addition to the above, She is also a KIASTM Practitioner, Taping and Dry Needling.
Programmes which are provided by her regularly are:
Women's fitness and basic classes for postnatal, Pcod and unknown infertility cases.
Ergonomics for the corporate employees
Sessions on exercises can be performed daily to keep the spine intact. (postural correction exercise)
Fitness and nutrition workshop.
Postural workshop for kids and teachers in various schools
Wolly workshops
How to avoid injuries?
30 days Fitness Program.
#
Yoga
You've probably heard that #yoga is good for you. Maybe you have even tried it and discovered that it makes you feel better. Regular practice can offer all kinds of mental and physical health benefits. Some, like improved #flexibility and #strength are evident. Others, including #mentalclarity and #stressreduction, maybe more subtle but are just as powerful. During the time of #covid19 it's important to practice #meditation and #pranayama. When put together, all the benefits below contribute to an increased feeling of #well-being, which helps explain why so many people find yoga so #addictive.
I have been practising yoga for 16 years now and find it amazing.
If you haven't tried still u must try it.
It's made for all ages and gender.
#yogaforeveryone #mustdo